Here in beautiful Wilmington, NC, we're celebrating the arrival of long, slow summer days. Pitchers of sweet tea, sunshine, swimming, grilling — it's all starting to happen!
However, alongside that lazy hazy summer fun comes the downsides: no-see-ums, sweat, humidity, Palmetto bugs, neighbors peeking over the fence… In our southern climate, one thing is certain: outdoor real estate is just as important as indoor real estate. And when it comes down to it, neither kind of real estate is much use without privacy!
Luckily for us Southerners, there are a great many options when it comes to outdoor blinds and shutters. These range from privacy screens and blinds for porches and decks to our favorite Deep South staple: the plantation shutter. Not sure what you need? Check out our list below to see if we've got a solution for your situation!
I don't spend much time outside, but I love the spring and summer cross-breeze through the house. Problem is, I live on a busy street, and when my front windows are open, everyone on the road can see right in!
What you need are exterior shutters. Plantation shutters are our favorite kind of outdoor shutter; they're classy, classic, and timeless. They're also wide-louvered, which means they allow for maximum light and view when tilted open, but complete privacy and light control when closed.
The panels open in the middle, so you can throw them open if you're feeling friendly in the mornings after rush hour ends. And whenever you want your privacy, you can keep the windows open for the breeze, but tilt the shutters half-open so anyone outside can't see all the way in.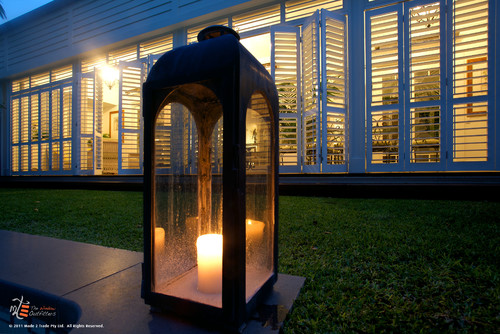 To me, summertime means porch-sittin'. But how do I stop the mosquitos, no-see-ums, and gnats from biting me and diving into my sweet tea?
We know just how you feel! Biting bugs are the least fun part of summer. But, if you're looking to screen in your porch, there are a variety of outdoor blinds that can help! Solar rollers and outdoor bamboo shades make for excellent porch blinds. They both offer you a lot of control over your surroundings. You can roll them up and set out citronella Tiki lamps to ward off insects, or roll them all the way down and batten down the hatches to protect yourself from the summer-evening mosquito onslaught.
I have an outdoor patio that I would love to spend time on, but my neighbors are so nosy! I feel like they're always watching me.
Have you considered installing exterior patio blinds? Like we mentioned above, solar rollers or bamboo shades are a great way to enjoy the outdoors while also enjoying your privacy. Solar rollers have the added benefit of being see-through from the inside and translucent enough to allow light in from the outside—but opaque enough to block the view of any outdoor Peeping Toms.
Do you have a situation requiring exterior shutters or outdoor blinds that isn't covered in our list? Come down to our showroom, you can sip a cold beverage while you talk with us in person, and we'll be sure to help you out!