What's the key to turning up the volume on your blinds, shades or shutters?  Layered window treatments.  Like your favorite cake or outfit, layers add complexity of taste. With a layered window treatment, you can highlight different parts of a room's aesthetic, emphasize your personal style, or pick up on elements of decor. Layered window treatments can also help a room to meet various needs when it comes to lighting, privacy, and comfort.  Here are some of the best elements for successful layering:
CURTAINS: Curtains are a great example of how form can follow function when you utilize layered window treatments. Even left open over sheers and blinds, curtains can set the tone of a room, adding a pop of color or making a bold graphic statement  Your curtain fabric can stand alone or match throw pillows and other room accents.
SHEERS: Sheer panels gently filter light into a room, allowing for lighting control. Sheers allow for that perfect combination of light and privacy, letting a curtain layer stay open or a blind stay up. A soft sheer provides a counter to the heavy thick fabric of curtains or the solid woods of shutters and blinds.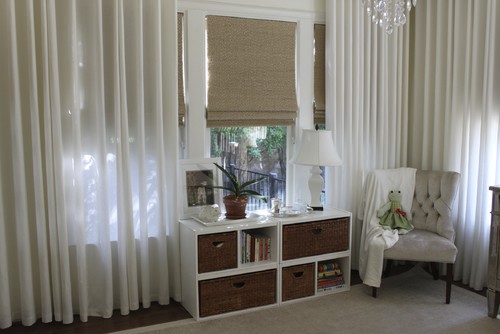 VALANCES: A valance is a low-cost and simple way to completely change your window treatment. Valances require less fabric than full curtains, so they are a great option for homeowners who want to make a change without a full-scale investment. A valance can alter the shape of your window or present an entirely different aesthetic to a room, based on the use of tassels, ties, or hooks to secure the fabric. A sleek valance perfectly pairs with a roller shade for a modern look without the fussiness that is sometimes associated with valances.
HARDWARE: Lastly, the hardware you choose for your layered window covering is like the icing on your cake. Curtain rods can be doubled to accommodate layered curtains, allowing them to be manipulated independently. Consider picking one curtain rod in a dark wood or bright metal to stand out and do decorative duty, while keeping the second nearly invisible. Curtain rods and wall hooks come in a variety of materials, shapes, and sizes, allowing you to match any style or make a trendsetting statement.
Looking to add a whole new level to your window treatment? Thinking that layering your options could be the key to giving your room the oomph it deserves? Visit the Strickland's Blinds, Shades & Shutters showroom in Wilmington, NC – we've got you covered.